Roccalbegna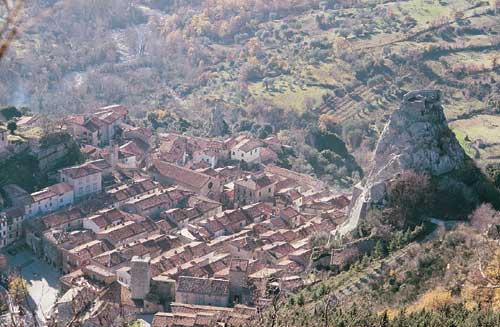 (The Roccalbegna sight)
The area wich connects the Amiata region with the Saturnia spa area is characterized by the upper stream of the Albegna river. The countryside offers suggestive and primitive views: a changing backdrop of strong tonalities, with pastures, cereal fields, hardwood forests, limestone spurs, traditional forms of settlements and farm structures. The entire area used to be frequented by ancient populations, eneolithic and Etruscan.
The Siena Republic took possession of Roccalbegna in 1296.
Siena wanted to transform Roccalbegna in a strategic post and to grant it "urban dignity" with the costruction of a perimeter of towered walls and master buildings.
The most notorius monument is the church of Saint Peter and Paul (XII-XIV century) in the central square, overlooked by the town council building and by the small civic tower with the sundial. Inside, a triptych of Ambrogio Lorenzetti and a large wooden Crucifix of the XIV century attributed to Francesco Nasini. Other religious buildings are the church of the Madonna del Soccorso (XVII century) outside Porta Maremma and the church of SS.mo Crocifisso with its XII bell tower which rises next to the ancient castle.
From the square it is possible to access to the sasso, a giant limestone cliff where the ruins of an ancient stronghold can still be seen and from where it is possible to take in a broad view of the landscape , the Albegna valley and the village.
Amongst the most important civil buildings there is the Palazzo Bichi-Ruspoli, with a beautiful ashlar portal surmounted by the family coat of arms and the Palazzo della Lana (XIII century).