Arcidosso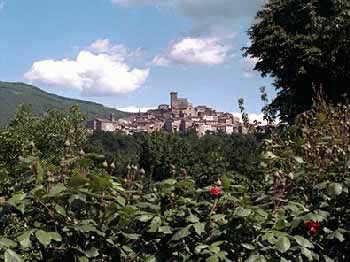 (The sight Arcidosso)
Corso Toscana, with its simple palaces, green areas and small roads is the business heart of town.
The Poggiolo fountain, cast iron monument in neo gothic style, realized thanks to the Grand Duke's foundries in 1883 and which for some time adorned Piazza del Duomo in Grosseto, is now situated right in the middle of the corso (the main road), before Porta Castello turns up on the left, with its beautiful arch, dominated by the medicean coat of arms, arch which leads to the historical centre divided into the "Terzieri" or town districts of Castello, Codaccio and Sant'Andrea.
Terziere di Castello:
Here one can find the Teatro degli Unanimi, headquarters of the "Accademia Amiata" and the imposing castle which in 1221 used to belong to the Aldobrandeschi. A few metres from the castle rises the San Niccolò church (town patron). Inside there is a valuable stoup by Pietro Amati in peperino and a sixteenth century crucifix.
Terziere di Codaccio:
It can be accessed through Porta dell'orologio in via Talassese. Right in the beginning of this street there is the birthplace of Davide Lazzaretti.
The church of this terziere is called San Leonardo, already belonging to the San Salvatore monastery in 1188. Inside there are monumental altars of Amati and paintings by Vannni and Neroni.
Terziere di Sant'Andrea:
There is the homonymous church. It's reveals a Romanesque structure and contains panels of the Sienese School dating back to the first part of the sixteenth century.
Outside the walls there is the church of the Madonna Incoronata. Legend has it that it was founded during the horrible plague in 1348. To the right of the entrance you'll find a Medici christening font in trachyte with three masks. Inside there are fifteenth century frescoes.
To visit in Arcidosso:
The castle of Aldobrandeschi
The Theater
The Historiccentre
The park of "Parco Faunistico"
The Mountain of Monte Labbro and the prophet Davide Lazzeretti
The wine road of Montecucco that leads to the special Montelaterone.
For the evening: