The Amiata Villages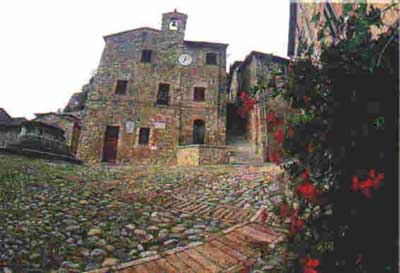 (Castiglion D'Orcia)
Girding the perimeter of the mountain for about 30 km/18.6 miles, at altitudes ranging from 1050 to 1300 meters/ 2,900 to 3,550 feet, the villages of the Mountain are surrounded by forests of beech, chestnut and oak trees: an area of incomparable beauty. Three junctions link up the principle routes to the Amiata Ring from Vivo d'Orcia to the Fonte Capo Vetra refuge, from San Lorenzo to Poggio Biello, and from Santa Fiora to Poggio Trauzzolo.
There are a thousand walks in the areas surrounding the Macinaie Hotel, along paths which crisscross through the woods, on the ski runs, or perhaps in the undergrowth, so soft to tread that you seem to be walking in your living room.
Among these walks is the mountain base loop, which takes you to Marsiliano and back, or the one that brings you to the Madonna del Camicione ("Our Lady of the Heavy Shirt"), or the walk that leads to the Laghetto della Neve ("Snow Pond").Often, even the inexperienced find splendid wild mushrooms, for which Amiata is famous, or spot magnificent woodland creatures, such as the roe deer, wild boar, foxes, hares, and porcupines.