Trasimeno lake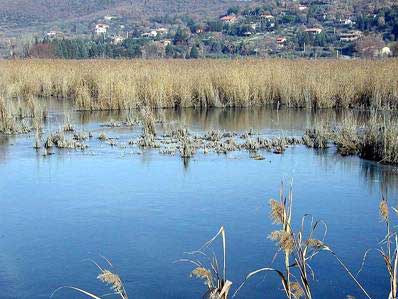 (the lake)
Administratively, the Trasimeno district is part of Umbria , but as concerns geography and culture it is both Umbria and Tuscany . The characteristics of one and the other are to be found here. It is set in an intriguing borderline area between the two regions, undefined in language and landscape, in the flavour of its cuisine, and in its traditions. It lies right in the centre of Italy , at a point which already in ancient times was close to the routes leading from the centre and from Northern Europe to Rome . A point easily reached and yet secluded. Thus, a very special sort of destination. Not a crowded transit point. Instead, a "wild strawberry" kind of place, which some come across by pure chance, only to become very jealous "regulars".
The Trasimeno and its adjacent territory were part of Etruria , and the Etruscan graves and rests are present above all in the area of Castiglione del Lago.
The area was conquered by the Romans in the same period of Perugia , and the Trasimeno enters in the history of Roma with the struggle of 217 BC, when the army of Hannibal destroyed the legions and 16.000 soldiers died among the hills of Tuoro and the banks of the lake. Roma left to the Trasimeno the sign of its great hydraulic science with the building of the first outlet aimed at regulating of the level of waters and at avoiding the floods, by anticipating a technology which was subsequently repeated from Braccio Fortebraccio up to present times. The settlement structure preserved in the Park is today mainly the medieval one with the castles, the fortified centers of Passignano, Monte del Lago, and Castiglione del Lago. Among the ruins of the castles within the Park, a particular mention deserve the ones of Isola Polvese and Isola Maggiore, but the most important and the best preserved ones are those in Castiglione del Lago, linked by a long covered communication trench to the Palazzo Ducale of Ascanio in Cornia, which was among the protagonists of the Lepanto's war.
The buildings characterizing the fishermen's villages also are worth a visit: several examples can be found in San Feliciano and in Isola Maggiore.