San Casciano dei Bagni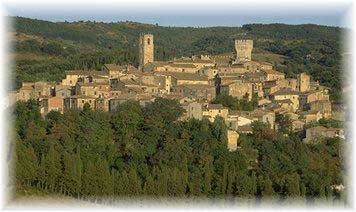 (sight of the city)
Orazio in one of his letters to Numonio Valla seems to allude to the therapeutic qualities of the waters of S.Casciano. The first historical document, which refers to S. Casciano is from 1081 even though S. Maria "de Balneo" is defined as a paleochristian church of the diocese of Chiusi (4 th - 5 th centuries) and in the year 995 as the "cutis (de) Bagno" was donated to Abbazia di S. Salvatore by the marquis Ugo di Toscana.
The use of the place name "Santo Cassiano" is first mentioned in documents of the monks of Abbazia S. Salvatore concerning a writ taken out the Emperor Enrico IV against the Aldobrandeschi family.
Around the middle of the 12 th century the castle passed into the hands of the Viscounts of Campiglia and after being the object of contest between Orvieto and Siena , finally submitted to the rule of the latter at the end of the 1300s.
In 1559 it became part of the Grand Duchy of Tuscany.
The waters of S. Casciano have always been renowned, both in Roman times and during the medieval period, such that today the most important economic activities of the town are health tourism and farm holidays.
The Commune of S. Casciano covers 91 sq km and other than the main town itself ( 582 m ) includes the villages of Celle sul Rigo and Palazzone. The population is a little over 2,000.
The treatment carried out at the small thermal establishment include mud therapy (non-regenerated natural mud), massage and inhalations. The town stands on a hillside and in the surrounding countryside, which contains some 42 springs, represents one of the most beautiful environments in southern Tuscany .
Other than the fairytale castle of Fighine and the tiny centre of Palazzone, noted for its young Chianti wine, the medieval village of Celle sul Rigo, presumably built on the site of a former "castrum Romano" is worth mentioning for its majestic 13 th -century tower.
The building of most interest is the Chiesa Basilicale close to the hot springs and dating back to the year 1000. The bell-tower and portal are from the 11 th to the 12 th century. Inside the remains of early frescos are conserved.
Spas
The mud-baths found here allow patients to benefit from the important alternatives of mud therapy and mud baths often advised by rheumatologists and orthopaedists instead of traditional anti-rheumatic therapy which can lead to numerous side-effects when pharmaceuticals are administered for long periods.
This treatment is carried out using natural vegeto-mineral mud-baths that have not been regenerated; that is, collected directly at the source where the hot spring water escapes forming a humus which is the origin of the mud.
Many illnesses which for common denominator have the symptom "pain", often the only outward manifestation of illness, and reduced functionality obtain excellent results with mud therapy.