San Gimignano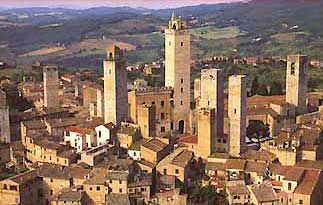 (the towers of San Gimignano)
San Gimignano is a small walled medieval hill-top town at about a 35 minute drive north-west of Siena and about the same distance southwest of Florence . It is mainly famous for its medieval architecture, especially its towers. Because of its position atop a hill the skyline can be seen for several miles outside the town.
The town is also known for the white wine grown in the area, Vernaccia di San Gimignano.
San Gimignano was founded in the 3rd century BCE by the Etruscans, as a small village. The city's documented history begins however in the 10th century CE, when it took the name of the bishop who had defended it from the attack of Attila's Huns.
In medieval and Renaissance times it was a stopping point for pilgrims on their way to Rome and the Vatican as it sits on the medieval via Francigena. The city's development was also boosted by the trade of agriculture products from the fertile neighboring hills. In 1199, during the period of its highest splendor, the city made itself independent from the bishops of Volterra. Divisions between Guelph and Ghibellines parties troubled the inner life of the commune, which however managed to embellish itself with artworks and architectures.
On May 8, 1300, San Gimignano hosted Dante Alighieri in his role of ambassador of the Guelph League in Tuscany .
The city flourished until 1348, when the plague that hit all Europe compelled it to submit to Florence . San Gimignano became a secondary centre until the 19th century, when its status of tourist and artistic resort began to be recognized.