Argentario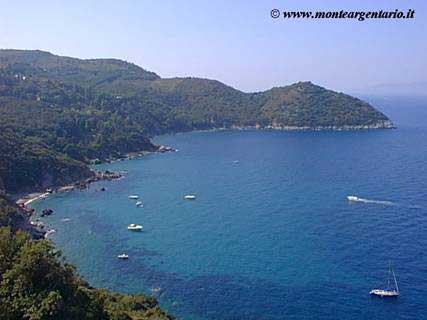 (The view of Mount Argentario)
In ancient times Monte Argentario was called Promontory Cosano because it belonged to the Roman city of Cosa , the ruins of which now lay on the hill of Ansedonia. Originally Monte Argentario was an island. As time passed however, the continuous transfer of debris by rivers and sea currents, joined the island to the Tyrrhenian coast by two land belts called tomboli (sand-and-gravel bar), tombolo of Feniglia and tombolo of Giannella . These two strips of land created a favorable environment for the birth of the lagoon of Orbetello , which is located between the two tomboli.
The promontory of Monte Argentario, whose landscape is considered hilly, (Punta telegrafo 635 meters over the sea level), is covered by Mediterranean bush and it is alternated by vineyards produced by the terracing of the hills, which are locally called poste . In these vineyards Ansonaco vines are grown.
The coast of Monte Argentario is high and rocky with small beaches and bays along the cliffs. The local economy, once based exclusively on fishing, now finds tourism as its principal business.
The Argentario is characterized by an exceptionally mild climate, witnessed by the presence of rare plants , not usually found in these latitudes.
The internal zones of the promontory are very interesting and for who love hiking and excursions, suggestive paths can be found there.
From the top of Punta Telegrafo you can see most of the Tuscan Archipelago and the Corsica island (France).
The largest town on the promontory is Porto S. Stefano , famous tourist spot, where the Town Hall of Monte Argentario is located.
Both of its ports, Porto S. Stefano and Porto Ercole , carry on an intensive commercial and tourist activity based on the fishing, yachting, diving, (the Monte Argentario sea floor is still wonderfully rich in fauna and flora) and ferry-boat lines to reach the islands of Giglio , Giannutri , Montecristo etc.

With a boat you can easily travel the 14 miles of rocky coasts and small bays from Porto S. Stefano to Porto Ercole. For those who prefer a land trip, you can drive or walk the suggestive panoramic road along the coast which offers stupendous views of the small bays and high cliffs. Traveling along this road you can admire all the watch towers built during or before the age of Spanish domination. The beauty of the landscape will make you forgive the poor condition of the road, and after 25 km plus 2.8 km of gravel road you will arrive at Porto Ercole .