Civita di Bagnoregio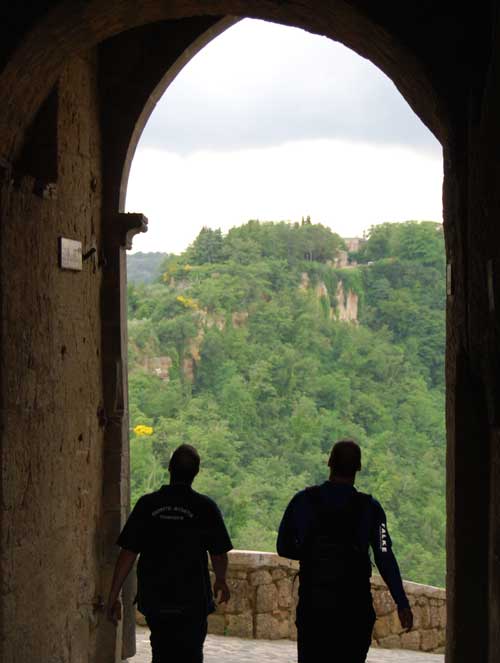 (The door of the town)
Perched on top of a hill among the valleys formed by Chiaro and Torbido streams, Civita appears in the edge of a cliff where it dominates the wide desolated valley made up of calanchi. This isolation is the result of a continuous erosion that makes the tufa rock becoming thinner and thinner on an unstable layer of clay and sand altered by wind and rain.
But when the town was founded by the Etruscans about 2.500 years ago, because of the different geological configuration, it was not so hard to get to Civita. During the Etruscan period, in fact, it was an important city for its position along an ancient road connected to a dense network of trade routes. Many traces of this population come from the necropolis found in the rock beneath the belvedere of San Francesco Vecchio.
The cave of Saint Bonaventure is supposed to be an Etruscan chamber tomb transformed into a chapel during the Middle Ages. Saint Bonaventure is one of the most important figures of Civita, He was miraculously cured from a serious illness by St. Francis of Assisi .
From the few available ancient documents, we know that Civita and Bagnoregio were parts of the same city called Balneum Regis (the bath of the king). This name was given by a Lombard king, Desiderious, as his wounds were cured by the salutary waters of the hot springs present in the area.
In 774, as the Lombards were defeated by the Franks, the city passed under the Papal State . In 1140 Civita became a free Commune, after a long series of feudal dominations. Among the feudal lords who ruled the town it is worthy to mention the Monaldeschi who were also lords of Orvieto.
The relations between Civita and Orvieto were not always peaceful for the many unsolved matters of boundaries and they were the cause of frequent hostilities among the inhabitants of the two towns. Furthermore, the Monaldeschi wanted to preserve their control over Civita as a strategic place in the religious conflicts against Viterbo. Actually, this control soon became a real dominion till 1457 when the people rebelled, destroying the Fortress of Cervara (belonging to the Monaldeschi). As a reminder of this victory, the sculptures of two lions grasping human heads were put over the gate of Santa Maria .
In 1695 the beginning of Civita's decay was signed by a terrible earthquake which, causing serious damages to the roads and buildings, compelled many inhabitants to leave the city. The continuous seismic activities that followed in the course of the centuries, brought a long series of landslides; for this reason, Civita almost became completely desolated. Today, in fact, only a very small number of people live there who are determined to keep this little fragment of rock alive.