Pitigliano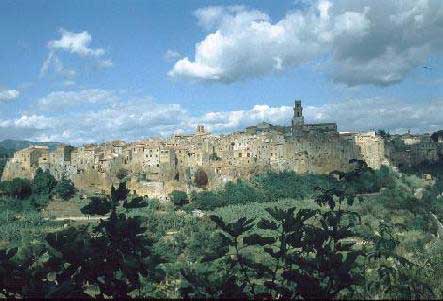 (The sight of the city)
Pitigliano is a small town in the province of Grosseto in the Maremma area. The town stands on an abrupt tuff butte high above the Olpeta , the Fiora and the Lente rivers.
Its area were inhabited in Etruscan times, but the first extant written mention of Pitigliano dates only to 1061. In the early 13th century it belonged to the Aldobrandeschi family, and by the middle of the century it had become the capital of the surrounding county.
In 1293 the county passed to the Orsini family, which signaled the start of a hundred and fifty years of on-again, off-again wars with Siena , at the end of which, in 1455, a compromise of sorts was reached: Siena acknowledged the status of county to Pitigliano, which, in exchange, placed herself under the suzerainty of Siena .
From thence onwards, the history of Pitigliano resorbs into the gradually wider ambit first of the Grand-Duchy of Tuscany (1562), then of the united Kingdom of Italy .
Etruscan remains
Pitigliano is home to a series of artificial cuts into the tufa rock to varying depths ranging from less than one meter to over 10 meters . At the bottom of these cuts (Italian: tagliate ) are carved channels, apparently for water, although some take the form of steps. The purpose of the cuts is not known: the three main theories are that they were roads, quarries, or water conveyance schemes; they radiate outward from the base of the butte of Pitigliano, down to the rivers then back to the top of the plateau that surrounds the town. A few very brief Etruscan inscriptions are said to have been found on the walls of the cuts, but are ill documented.
Synagogue
For several hundred years Pitigliano was a frontier town between the Grand Duchy of Tuscany and, to the south, the Papal States . For this reason, the town was home to a flourishing and long-lived Jewish community, mostly made up by people fleeing from Rome during the Counterreformation persecutions. Although there are almost no Jews left in town, not enough to provide a minyan, the synagogue (1598, with furnishings of the 17th and 18th centuries) is still officiated from time to time. It was restored in 1995.
The "Tempietto"
The Tempietto ("Small temple") is a small cave, probably of natural origin but considerably reworked by human hands, lying a few hundred meters outside the central district, yet far above the Lente valley. Its purpose and builders remain unknown. Locally it referred to as a "paleochristian tempietto", but this has never been confirmed; it must date to Late Antiquity or the early Middle Ages, although it may replace an Etruscan or Roman arcosolium.