Sovana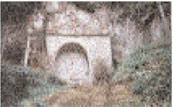 (Etruscan grave)
Sovana is 9 Km far from Pitigliano. The" dimension" of this village is particular, the atmosphere itself is different; it seems to live in another age where time has stopped. Its houses are rich in valuable works which testify the importance of the place in the Middle Age. In the central square there are: the fourteenth century Palazzo Pretorio, the Loggetta del Capitano, Palazzo Bourbon del Monte, the Romanesque church of St. Maria with paintings of the SieneseSchool and a pre-Romanesque ciborium.
At the bottom of the village there is the Duomo, in Romanesque style and a crypt of the 8th century. Near the village the ditches of Folonia and Colesino dug the land for years, giving rise to a high volcanic tuff rock where has been discovered an Etruscan necropolis, as testify the various monumental tombs, some of which can be visited.
If one likes to have sensations, then you have to exceptional emotions and run the Cavone, a road dug in the volcanic tuff.
For further informations: http://www.comune.pitigliano.gr.it/