Peschiera Park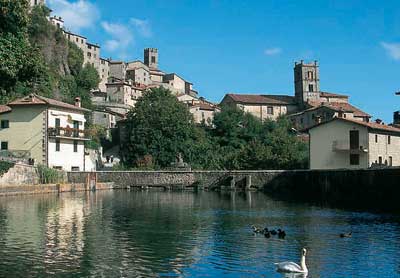 (The Peschiera Park in Santa Fiora)
The Peschiera is perhaps a unique monument in the southern Tuscan region. it was built by the Aldobrandeshci family as a trout farm, so that the whole Court could be fed during the days of religious fasting, which , in those days totaled more than 200 days per year. According to chronicles of the time, "the moat of the Count Castle and the Peshiera were guarded by horrendous crocodiles...."
and when one of these escaped from the pond the legend of the "Dragon of Selva" was born. The Sforza family turned it into a park - garden. The oldest description found of the Peschiera is of the XVth Century, during the papacy of Pope Pius II Piccolomini: "On the western side flows an abundant stream of water which, after filling a large fish pond, flows through pipes and thunders down into the valley below. as in a fish farm, large trout are bred, and in the presence of the Pope himself many of these were fished.
Orignially, the Peshiera was probably one of the many lakes which surrounded the volcanic slopes of the Amiata, formed by the rich sources in the point where the permeable rocks and the underlying impermeable ones met. This suggestive lake is the only occasion in which the crystal clear waters of the Fiora river can be admired before they are carried off by the important Maremma aqueduct. Until a few decades ago rich waterfalls poured huge quantities of spring water into the lake, but nowadays these have disappeared due to the natural lowering of the level of the slopes. The quantity of water colected in the Peschiera is, however still considerable and houses a small, bus suggestive micro environment.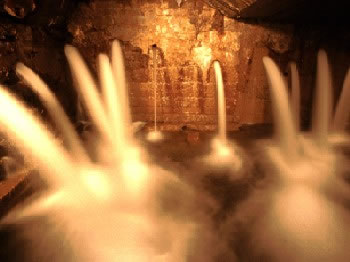 (The river Fiora's springs)