Robbiane Ceramics of Santa Fiora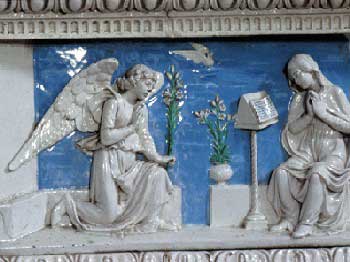 The Robbiane ceramics that is situated in the church "delle Sante" in Santa Fiora and is one of the most important and significant works of art in this territory. They can also be found in the small village of Radicofani next to the town of Abbadia San Salvatore. The origin of this art was ordered by the count Guido Aldobrandeschi, to the private church of the counts and the family of Santa Fiora. The ceramics have a rare beauty, movement, and a colour harmony.
The participants have the possibility to admire the sculpture and art such as, the baptism of Jesus, the Madonna, the last meal, the saints Flora e Lucilla and the characteristic cross in wood.