The chestnut road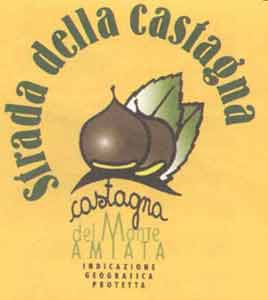 Chestnut woods are fundamental in Amiata landscape. The acid soil of the volcano favoured the growth of the chestnut trees. Amiata is one of the European place where chestnut landscape (a natural and cultural landscape at the same time) is best preserved. That is why, according to leader projects for the rural economy development, the European Union financed the contruction of Amiata chestnut road. It's a road linking 6 paths, 5 walking routes and one car route, going through the most charming chestnut woods of the mountain.
Along these routes camping, fires and fruits picking are not allowed. From 15th September to 15th November, during Chestnut picking, there are only guided tours.
The six routes above wind up Castel del Piano and Seggiano (starting at Tiepolini, lenght 4,2 Km), Arcidosso (starting al Le Piane, lenght 8,4 Km), Santa Fiora (starting at the village, lenght 2,3 Km), Castell'Azzara (starting at Selvena, lenght 3,2 Km), Cinigiano (starting at Monticello Amiata, lenght 3,2 Km) and Roccalbegna (starting at Faeta Farm, lenght 2,6 Km). The car route winds up Semproniano (starting at Km. 26,6 of thr provincial road n. 10, lenght 12 Km).