The Montecucco wine area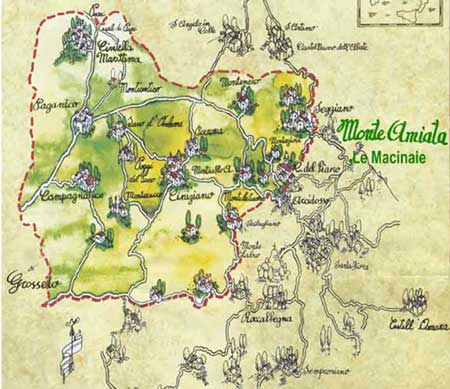 (Montecucco map)
This little-known area strikes the visitor as a kind of enchanted garden, with endless discoveries to be made - a different Tuscany, the real one, in which tradition and innovation are combined. It is an unspoilt landscape whose natural dignity and resources have been respected, especially in more recent wine-growing. Apart from Montecucco DOC and Maremma Toscana IGT wines, the area also produces olive oil (IGP Toscano - Seggiano is particularly worth a mention), chestnuts, which are shortly to receive IGP recognition Mount Amiata Chestnut), mushrooms, notably the ceps and ovolo species, and excellent honey. The Trail is arranged in one main itinerary and five mini-itineraries which wind through the most beautiful and interesting parts of the area from the viticulture, historic, cultural and environmental point of view. The following towns are touched upon: Paganico, Sasso d'Ombrone, Poggi del Sasso, Montecucco, Cinigiano, Porrona, Montenero, Montegiovi, Montelaterone, Castel del Piano and Seggiano.
The History
The name Montecucco is very recent: indeed it was acknowledged only in 1998. It includes several varieties of wine: Rosso, Sangiovese, Bianco and Vermentino. Rosso and Vermentino also feature a "riserva wine". Thanks to the DOC certification, both wine makers and consumers have a new way of protecting and increasing the value of this wine, The DOC discipline is indeed strongly connected to the traditions and wine-making techniques of this area, which have been recently improved and refined. As a result, some of the local wines in particular the red ones are today renowned and sought after in the global marker.
Area of production
Montecucco Doc is produced within the province of Grosseto, in an area that in specifically devoted to the production of high-quality wines. This area includes the localities of Cinigiano, Civitella Pagnico, Campagnatico, Castel del Piano, Roccalbegna, Arcidosso and Seggiano.
The Roads
Main Route: Paganico - Sasso d'Ombrone - Poggi del Sasso - Montecucco - Cinigiano - Porrona - Montenero - Montegiovi - Montelaterone - Castel del Piano - Seggiano.
The itinerary passes through the most important Montecucco DOC wine-growing zones. Setting off from Paganico, a lively modern town with an interesting four-gated wall dating from the fourth century, we reach the Monteverdi farm and then on to Sasso d'Ombrone, with its imposing bridge and medieval gate. We then climb up to Poggi del Sasso, a little rural town and centre of Montecucco wine production. This area is abundant in vineyards, cellars and wineries, but is also noteworthy for the beautiful castles at Vicarello and Colle Massari. A few kilometres from Poggi del Sasso is the Montecucco Farm which has lent its name to the eponymous DOC wine. This area, in front of MountAmiata, is the heart of wine-growing activities. Numerous holiday farmhouses, traditional trattorie, and extensive wildlife make this area very rewarding from the hunting and culinary point of view. Nearby is the PorronaCastle, a stunning village whose image has been borrowed to promote DOC Montecucco wine. Montenero is the other DOC Montecucco "capital", and it houses the Museum of Wine and Vine. There are many cellars where wine, oil and other local products may be savoured.
The Montecucco wines
Montecucco Rosso
Deep ruby red; vinous and round bouquet; the flavor is balanced dry and medium tannic. Min alcohol 12° (12.5° for riserva)
Montecucco Sangiovese
Deep ruby red; fruited, vinous and typical bouquet; dry balanced and slightly tannic flavour. Min. alcohol 12°.
Montecucco Riserva
Deep ruby red tending to garnet; round vinous and distinctive elegant bouquet: the flavour is full, dry, warm and elegant, with occasional hints of wood. Min. alcohol 12.5°.
Montecucco bianco
Straw colour as a delicate and fresh bouquet (more of less fruity), vivacious and dry flavour. Min. alcohol 11.5°.
Montecucco vermentino
Straw color, typical delicate and fresh bouquet, the flavor is dry, smooth and savory, min alcohol 11.5°.