Sport on Monte Amiata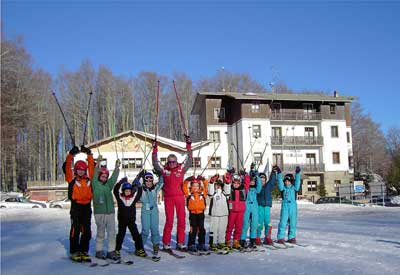 (Thomas, ski instructor, with a class)
Monte Amiata in the winter is a magical place. Enjoying the season, the relax and feast with friends and family. The top of the volcano covered with"winter sculptures", the Fiaccole (burning torches in the villages), go horse riding, or of course go skiing. We have skiing instructors for adults and children. For Christmas the small towns that surround the mountain organize the traditional "Fiaccole", concerts, and the churches have the Christmas atmosphere. New Year is always a fantastic party with live music and amusement. The Italian tradition for the end of the feasts is Epiphany where the witches take the party's and flies away.

Snow-making equipment

12.5 Km/miles of ski runs

2 chairlifts

10 T-bar lifts

2 Cross-country ski trails

(The ISA and Amiata Impianti companies manage the snow-making equipment and lift/ski-run maintenance, telephone 0577/778237 and 776356)

30 Ski Instructors

Scuola Italiana Sci Monte Amiata ("Italian Ski School-Monte Amiata") is located west of the Macinaie meadow, telephone 0564-959004.

Scuola Italiana Sci Monte Amiata, located on the Vetta, or "Peak", telephone 0577-789740.

Ski Rentals

from Gastone, located at Macinaie field, telephone 0564-959005

from Millo, located at Macinaie field, telephone 0564-959008

from lo Scoiattolo, located at Contessa field, telephone 0564-959003

Sporting Events

We can even organize night skiing events for our clients.