Orienteering is a sport for everyone, regardless of age or experience. The competitive athlete can experience the exhilaration of running through the woods at top speed, while the non-competitive orienteer can enjoy the forest at a more leisurely pace. Most events provide courses for all levels–from beginner to advance.
The sport is also a game for children, where they have the opportunity to learn about geographic, maps, flower, threes, animals, and science. The sport comes from the Nordic countries and the legend often say that it was a way of finding the way back home for children.
Imagining students from a school, in a place that they don't know where they need to find a bus stop that can bring them back to town. They organize a competition, who finds the first road that leads to the bus stop and to the town, win. They need to think, discuss, be reasonable, (the thinking sport) and fast to reach the ending point. MountAmiata an ancient volcano offers a lot of starting points for activities in every season, summer, fall, winter and spring in a fascinating territory. Beech woods, old volcanic rocks, tracks, old chestnut houses, villages, etc. is surrounding us in Monte Amiata and is therefore a idealistic spot to enjoy orienteering, mountain biking, trekking and horse riding.
In orienteering we use 2 fundamental materials:
The map
The silent map in scale from ex. .: 1:100 and 1:500 to levels didactic; 1:5.000, 1:10.000 and 1:15.000, levels beginners and levels competitive (indicative measures)
Represent "the high point of view". It is not indicated locations, (roads, monuments, churches, lakes etc., or numbers of altitudes. The participants need to follow the map with the help of a compass to find the checkpoints.
(It is signed with a triangle). The participants chose the fastest route to follow from the map, from 1 checkpoint to another. The map has many symbols and colours that indicate houses, roads threes, high tops, low meadows etc.
The lantern
The participants have to find the checkpoint. They are in the colours of red and white and attack to it the participants will find a stamp that leaves a mark, (in the form of triangle, quadrant, roar …) different form for each checkpoint.
Orienteering is not only about speed, it is also a thinking sport, a game to choose the best route to follow to the end.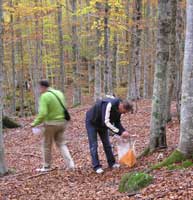 searching the checkpoint