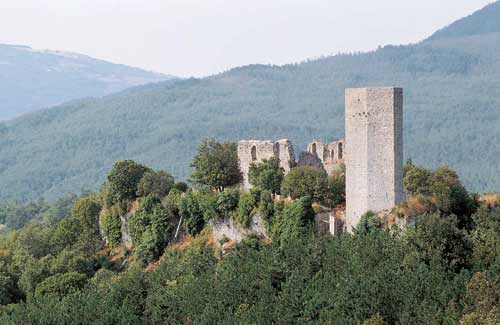 (The Rocca Silvana)
The castle was named for the first time in 833 A.D. on a document of the San Salvatore Abbey but the reports brought to light during the recent excavations, started in 1997, revealed no traces antecedent to the 11th century. At that time the monks of San Salvatore Abbey began to vindicate the possession of Selvena accusing the Aldobrandeschi to have taken it illegally. The feudal family won the quarrel, but in the following centuries the fortress continued to be object of desire, suffered seriously damage under the siege of Fredrick Barbarossa at the mid-13th century and subsequently was again disputed between the powerful towns of Siena and Grosseto. Only at the mid-14th century Siena took control on this territory, but only for few years. Selvena became first part of the fief of Pitigliano, controlled by the Orsini family, and then of the Grand Duke of Tuscany.
The fortress' ruins dominate the landscape. Today is still easy to recognize the traces of its trapezoidal shaped double walled enclosure: the external walls encircled the inhabited area and the inner the feudal palace. To the eastern extremity of the inner walls, just over the main gate, rises a splendid tower with a pentagonal form that played the function of keep. This tower was added to the fortress to increase the defences immediately after the Barbarossa's siege. The quality of the construction is still today clear, it was built with fine worked stones of the highest quality and testifies the wealth of the castle's owners. This side of the fortification is also the only one not defended by the natural precipices of the rocks and the walls have here their vertex creating a barbican at defence of the entrance.


(The tower)
Just at the side of the tower, in the centre of the inner courtyard, rose the remnants of the great feudal palace, one of the finest examples of residential architecture of the 13th century that we can still find in Tuscany outside of the big cities. All around we found various traces of other buildings: the cistern and the chapel can be still identified. The complex remained in use up to the whole 17th century and, after the exhaustion of the mines that gave it importance, began a slow decline. Its position, a hardly accessible eagle nest, led to its abandonment. Until the year 1997 it was periluos walking between these ruins covered by vegetation and at continuous risk of collapse. The recent restoration works, still not completed, stabilized the complex. Today Rocca Silvana is visible from the varied perspectives that offer the panoramic road that leads to Sovana. Entering is forbidden... but not impossible!