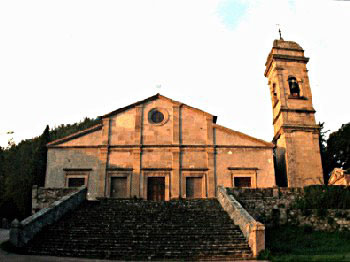 (The "Madonna Incoronata" Church)
The Sanctuary of the Crowned Virgin Mary, Right outside Arcidosso, built, as legend has it, as an ex-votive offering to ward off the 1348 plague.
The building bears witness to subsequent transformations, but the facade, divided by pilasters is in the fifteenth century style. In 1556, the side naves were added, in 1600 the three apse chapels. The bell tower dates back to 1851. To the right of the entrance there is a valuable Medicean Christening Font in trachyte with three masks. Inside, amongst the other works of art, there are fifteenth century frescoes. Above the upper altar, a precious Virgin Mary with child of the XV° century Sienese school coming from the Palazzo della Capitaneria (according to legend, miraculously transferred), a two-face altar-piece by Ventura Salimbeni (early seventeenth century) depicting the Madonna delle nevi (on one side) and the Virgin in glory between Saints Sebastiano and Rocco and a Return from Egypt by Francesco Vanni. The stone altar is from Amati.