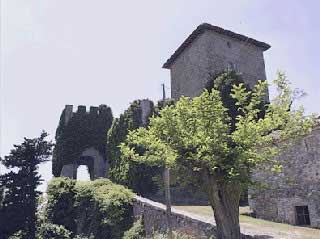 (The Castle of Triana)
The Triana castle is a forced passage and is the deviation point of the road leading towards the Amiata mount or towards the Saturnia hot springs. News of the castle has been founded in documents of the San Salvatore Abbey date back to 776.
Subsequently (XII-XIII century) it became the castle of the Aldobrandeschi of Santa Fiora, until in 1388 it was turned over to the Piccolomini of Siena who kept the propriety and ruled it until 1962.
The imposing castle construction is the result of the integration of original structures with various restorations and modernization works.
The octagonal tower has still kept its original shape intact.